Well I've had the first good weekend in ages. We took the kids swimming on Saturday morning. I was just going to take DD but DS1 caught me sorting the kit out so we all went and had a lovely time. In the afternoon after a couple of false starts I met up with
Lottie
for coffee and a chat. DH kept the kids so I was child free too. Fantastic some proper me time it was bliss.
Yesterday was DD's birthday. I can't believe she is 7 already. We stayed home for the whole day and did nothing which was just what she wanted. We are going to Twin Lakes and taking one of her friends with us next weekend as a birthday treat.
This morning I popped into town to do a bit more Christmas shopping. When I got back from the playgroup run I found that the postman had left me a parcel. The wonderful
Sarah
sent me these.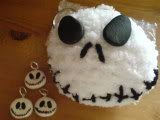 Aren't they fab. I am so pleased and such a wonderful thought too. I am so lucky to have such good friends.