Well my June pair are finished and ready to take to Woolfest with me at the weekend and here they are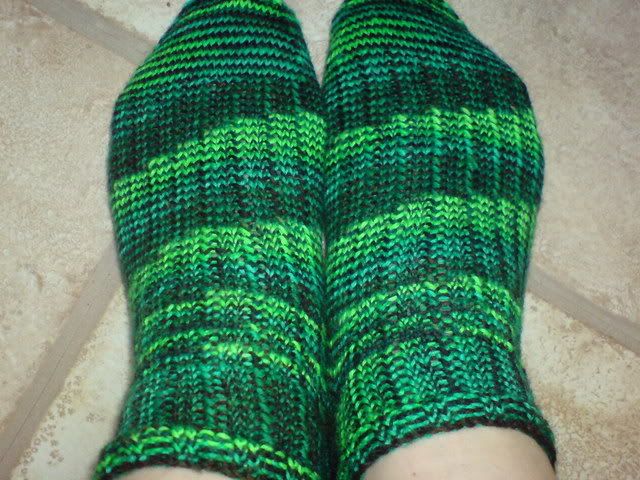 I am really pleased with them. The pattern is
Charade
by Sandra Park and I've really enjoyed knitting them. Only my second pair in a pattern.
The yard is Enchanted dyed by
Mamalonglegs
(Babylonglegs on Rav), it has been beautiful to work with and I love the ways the colours have worked out.
I also have to admit how proud I am of myself for managing 1 pair of socks a month for 6 months. I have also had great fun doing it. I somehow though still have loads of sock yarn to work through and I suspect that there will be even more by this time next week ;)
I am so looking forward to Woolfest. But suddenly it is 4 days till we leave and I have nothing packed and loads of stuff still get done round home. Plus it is DS1's playgroup trip tomorrow so I will loose a whole day to that. Time to get organised I think. I shall start with a proper shopping list this afternoon and then some clothes packing on Wednesday.