Well by the end of the week it was anyway.
Monday saw DH go off with 30 Year 3 kids from
DD's
school to
Beaumanor

Hall
for a 3 day (2 night) residential. He had a fab time, couldn't stop talking about it when he got home. I had two nights off work to stay home and play Mum which I really enjoyed though I missed DH like crazy once the kids had gone to bed and all the work was done. Still it did make for some
uninterrupted
knitting time.
DS
1 went back to playgroup on Monday too, he was all scabbed over by then and now most of the scabs are dropping off. No sign of Bean getting it yet though. **shrug**
Wednesday saw DH home and me back to work and so normal service in the
Miffy
household is resuming after the
excitement
of the car and me being off work with my neck and half term and all the other bits and pieces that have been going on.
Friday morning I managed to get round to say Hi to
Lottie
, I haven't seen her for ages, weekends have been really busy for us lately and of course she is working during the week and half term was a total wash out from my end.
And now I have
Woolfest
to look forward to. I am mentally planning my shopping list (which I will get down on paper before I go) and my packing list, I've started getting a few bits together too. Can you tell I'm excited.
Knitting wise I am making good progress with my June Socks. I just love the way
Sarah's
yarn is knitting up. The
yarn
is lovely to knit with and the colours are fabulous. :)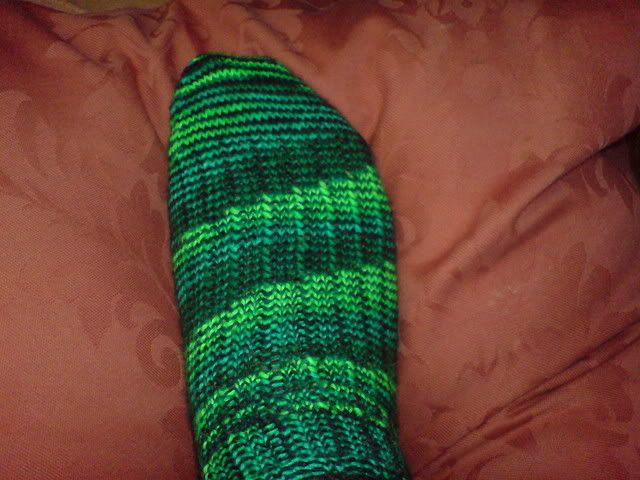 In a moment of madness I signed up for SAM6 this morning, I wasn't going to but then I decided that if I was short of knitting time I could always resort to baby socks, the May pair I did were really quick to knit up and besides I'm finding that I get quite a decent speed on now with my sock knitting.
However it is hat knitting that will be a
priority
for July. Sarah is doing me some yarn and hopefully it will be perfect for
this
which I am going to knit up as part of the
Sideways Hat

KAL
on
Rav
which
WoollyWormhead
has set up. I'm really looking forward to it. Can't wait to see my yarn.