Well last Sunday was our day out with Thomas and it was brilliant. We were lucky and the weather was gorgeous, freezing cold and bright sunshine, beautiful.
We drove over to Quorn and caught our first train - Douglas.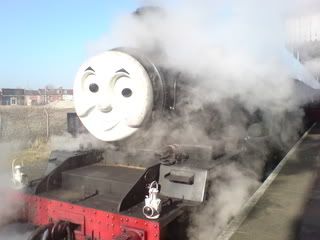 From there we went up to Leicester North and then back to Loughborough station. The countryside was gorgeous. Crisp white frost on the trees and fields it was so cold that the reservior was frozen in places. The train windows were still frozen when we got on!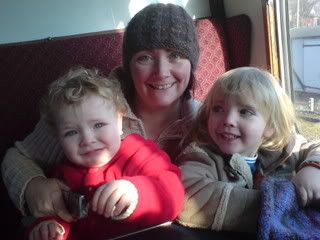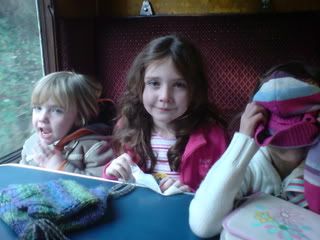 At Loughborough we got on the Thomas/Diesel train for a short ride up and down the station, Thomas pulled us out and Diesel took us back, the kids loved it. DS1 and DD refused to have their pics taken with Thomas but Bean obliged for us though he didn't look totaly at ease about it all.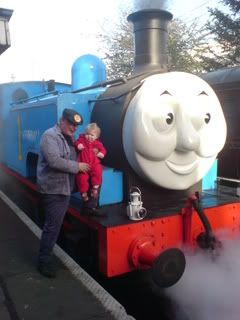 We then caught Daisy and went back up to Rothley station being entertained by Singing Sally enroute which the girls loved, especially when we sang Daisy Daisy! We had our picnic at Rothley Station and then it was back to Quorn and back home.
The Day Out With Thomas is definately to be recommended and I think we will do it again when Bean is old enough to really appreciate it.
The
Great Central Railway
runs through beautiful countryside and each station reflects a different time period, the kids really liked the old fashioned look to Quorn and the real fire in the waiting room so I think we will go back in the summer and just ride the normal trains and maybe go for a walk in the Loughborough countryside.