Following our seaside trip with have been taking it a bit easier this week mainly just pottering about at home and chillin out. DH has even been into work!
The kids have been playing on the Wii quite a bit and in the garden too. I'd say in spite of the rain but judging by Beans appearence he has thoroughly enjoyed having puddles to jump in!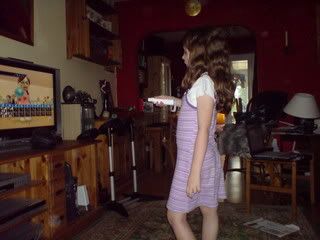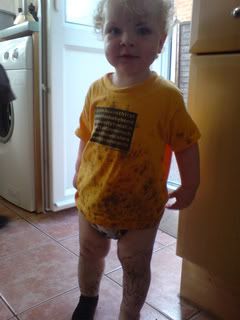 I took DD and DS1 to meet a friend for coffee in town on Thursday lunchtime. We managed to fit all seven of us round a table for 4 and had coffee and doughnuts.
Lisa
and I even managed to have a bit of a chat too! It was lovely to catch up with her. I normally see her at the tots group we go to each week so I've missed our chats over the holidays.
On Friday I took the boys up to
Lotties
for a chat. Again I somehow don't seem to have managed to see much of Lottie over the summer so it was nice to sit and knit and chat for a while. Then it was off to Tesco (DD came too) and then later I took the boys over to a friends so she and I could chat and the boys could play with their kitten.
Yesterday I took all the kids over to my mums, we met her new chickens and collected the World War II stuff she has for DD to use for school. Then in the evening DH and I went to Pizza Hut (cos we can't do that with the kids anymore) and then to the cinema! I think the last time I went to the cinema was to see Charlie and the Chocolate Factory!!!! I'm trying no to think about how long ago that was.
Of course this chilling time has allowed for lots of knitting too.