DS1 had his first day at school this week. He suddenly looked all small again when I got him in his school uniform.
He had a fab day though which was a big relief to me as I have to admit to being a little worried about whether he would enjoy it or not. I think he may turn out to be quite a handful for his teacher though. He has really enjoyed the rest of his week too, alternate days this week and then everyday from next Tuesday. He is loving it which is good. I do miss having him around though.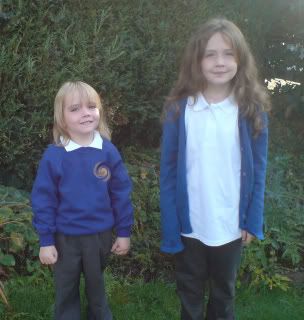 It took till yesterday for DD to really get settled in but something clicked on Friday and she now seems her old self again which is fab as I had been getting a little worried about her.