We had our first sleep over a couple of weekends ago.
Babylonglegs
youngest came to stay with us. He and DS1 had a fab time and played really well together. We were lucky with the weather so they got lots of time outside and then after tea DH put Rock Band on and we played that for a while.
They even slept well too, I only had to "get cross" once which I was very impressed with.
On Sunday we all went conkering at a local park, there are several big Horse Chestnut trees there and as the park is in one of the local villages they tend not to be stripped bare, instead you can collect loads of windfalls. When we went last year there it was fairly windy and conkers were falling out of the trees around us! The kids love it so I am making it an annual pilgrimage.
We stopped off to feed the ducks and geese before going for a walk in the wood.
We We also introduced J and my DH to the trees with eyes! Aren't they just fab :) I love them they were just so unexpected the first time I saw them, we just turned a corner and a tree was looking at us.
On the way back to the the trees for some more conkering the kids stopped off for a ride on the dragonfly.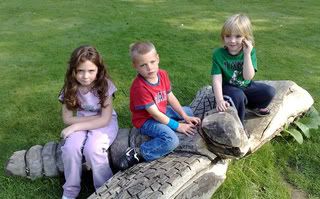 How grumpy does DD look about having her photo taken? LOL