It seems ages since I posted last but life has been very busy and there hasn't been
alot
of time for sitting and uploading photos etc. I am promising myself to be better from now on and also not to let DH be the only one who takes photos.
First pics are from a Rock Band night that we went to at a friends house. We had a fab time though we were completely shattered by the end of the night. We're planning more in the future! Though maybe without the dressing up ;)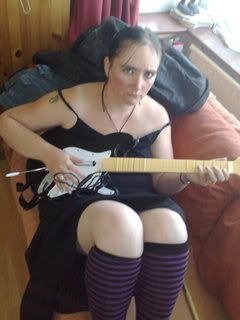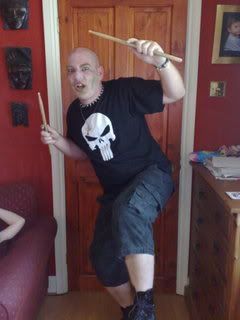 Since the kids broke up from school I've been extra busy in the days too. Went to
Burbage
Common on the first Monday and did a nature trail with them which was great fun. The weather wasn't brilliant but the rain did hold off.
Other than that we've just been taking life easy and chilling out quite a bit. The kids are enjoying doing just everyday stuff for now. We have a few days out planned for the rest of the holiday so that will keep us entertained.
On the knitting front I have done a large shawl for
DH's
Gran, it still needs the tassels adding though so no photos yet. And my July socks are finished,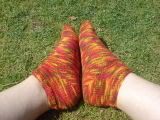 I did wonder at one point if they were going to get done on time but they are. I'm thinking of doing some for Bean for August just so I can get them done a little quicker. However I have hit a small snag in my knitting plans. All my
Woolfest
stash is still in
skeins
! I have ordered a ball winder and I will try to get my Dad to make me a swift but in the meantime I am back to knitting from older stash for a little while longer.
And
finally
a picture of
DH's
new "toy". We had a tank a few years ago but for various reasons we let it wind down and so haven't had one for a while. This one is a tropical set up and having let it stand for a while we have today added some fish. There is one lurking in the picture honest - the rest hide when I approach with the camera.