It was my first trip to Woolfest and it was fantastic!!!!! I just had such a fabulous time.
I left just after the school run on Friday and drove over to pick Sarah up and then we were officially off :) Despite being long the drive up was OK and thankfully dry.
We went straight to Woolfest of course and spent a few hours wandering around, meeting people and just drinking up the atmosphere.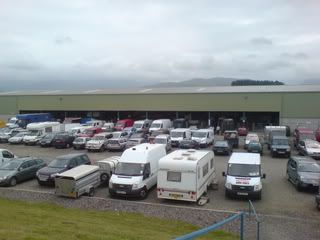 It was just stunning to see so much wool and fibre in so many different colours in one place. I just didn't know where to start, I think I only brought 3 skiens on the Friday and some stitch markers. Oh and tea and some rather yummy carrot cake ;) And of course Sheep and Alpacas.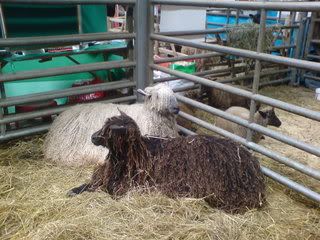 Sarah tried her hand at long draw spinning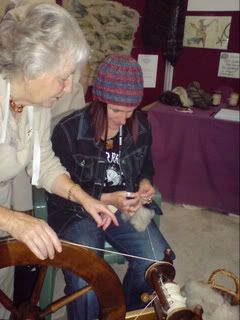 Then it was off to the campsite (the long way round ;) ) to set the tent up. And my wasn't that fun! By this point it was pouring down and the wind was howling but at least it was daylight. It took some doing and we got soaked through in the process but we did get the tent up in the end and it stayed dry inside.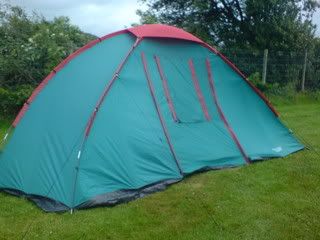 Lottie arrived in time for tea and then we just crashed out and chatted.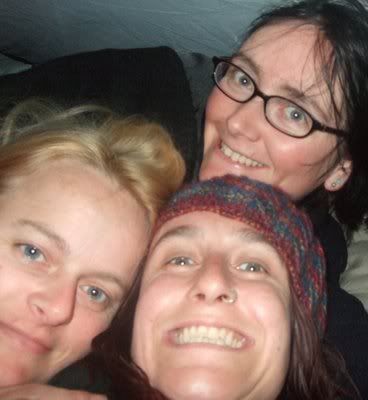 Saturday was bright and clear and we went into Cockermouth to Sarah's favourite cafe for breakfast which was lovely and then we called into shoe shop on the way back to the car. Sarah was trying on Crocs but it was me that ended up buying a pair!!! You have to admit though they don't look like your average Crocs and they will show off my hand knitted socks beautifully.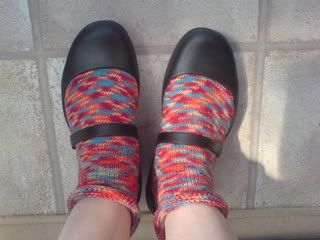 Once back at Woolfest I brought more yarn and more goodies and wandered around again just looking at everything. We tried on hats.
Later we just sat and knitted for a while before a last spend and a last look round.
Sunday morning we had to take the tent back down, pack everything away in the car and then it was back to real life. In the rain again so not such a nice drive but the music was good thanks to Sarah's DH.
I had a wonderful time with fantastic friends and it was great to meet new people particularly
Ambermoggie
(thanks for the vest top)
and
Woolydoodles
(Hi Jack) and
ClaireUK
, if you want to see pics of everybody we met then I'll send you over to
Sarah's blog
cos she took loads of people photos.
The only question now is do I do Woolfest again next year or do I try out Wonderwool? And no I can't do both!