I've done a separate post for my Woolfest shopping cos even though I didn't go mad there is still quite a bit of it and or course several photos to be shared.
First up is my sock yarn from The Yarn Yard. Natalie was lovely and I am really looking forward to starting the Orange/Brown colourway. It is next on my sock list! DD is trying to lay claim to the purple/green skien but as she has a specially requested yarn on its way she can wait to see whats left over from my socks.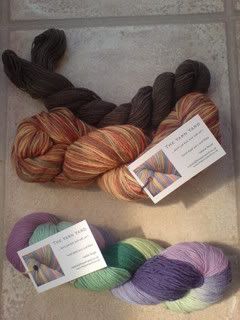 Next is 3 skiens of Alpaca/Silk DK from The Natural Dye Studio. I spent forever trying to choose this but managed to make a selection in the end. It is destined to be a shawl for my MIL.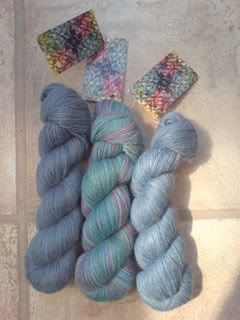 From KraftyKoala I got some 50% merino 50% tencel 4 Ply sock yarn in Carnival. It has a beautiful shine to it and it is very soft. I also got a skien of Organically Farmed Merino DK in Waterlilly.
Whilst visiting KraftyKoala I also fell in love with Nic's fishy fabric so I just couldn't resist the Fishy Sock Project Bag, I have ordered a DPN roll to go with it ;)
My final yarn purchase was 4 balls of Regia 6 ply. Not as exciting as my hand dyed yarn but at a price that couldn't be resisted.
I got a collection of bits and pieces including a set of crochet hooks (can you belive that apart from two small ones I didn't have any till now), some small bamboo DPNs for knittting dark coloured socks, stitch markers and some little heart shaped tags which read "made with love" for attaching for finished objects.
And of course my Ravelry/Woolfest vest top which is just fab!